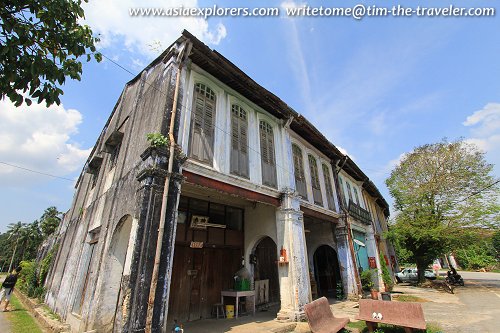 Papan, Perak
(18 June 2011)
Papan
is a small town in the
Kinta district
, in central Perak. It is located at the foot of the Keledang range, which you can see as you approach the town. Papan was established as a settlement of Mandailing people under their leader Raja Bilah around 1882.
In the late 19th century, it was a mining town. As was practically every town within the Kinta Valley, and with mining came social volatility and triad warfare. The friction between the Ghee Hin and Hai San secret societies erupted into what was known as the Papan Riot on 29 November 1887. The riot was put down by Lieutenant-Colonel R.S.F. Walker (whose statue stands today in the compound of the
Perak Museum
).
The town had a slight headstart over
Ipoh
, but was quickly surpassed by the latter by 1892. When the railway line was built from Ipoh to Tronoh in 1908, it even had a stop in Papan.
Papan is also noted today for being the home of war-time heroine Sybil Kathigasu, an Eurasian of Irish-Indian extraction, who received the George Medal for Gallantry, the second level civil decoration of the United Kingdom and Commonwealth, in 1948, the only woman in Malaya to receive it. Her house at 74, Jalan Besar is now managed by the Mr Law Siak Hong, the Vice President of the Perak Heritage Society, as a showcase of her life.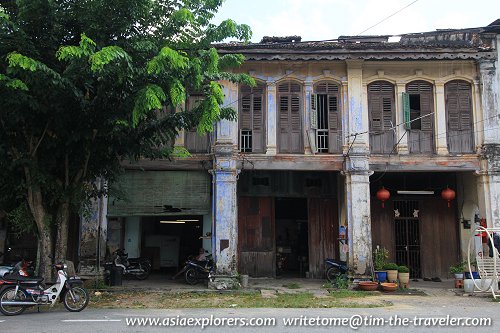 Papan shophouses, the majority in need of repair
(18 June 2011)
On 18 June, 2011, during a heritage tour organised by the
Penang Heritage Trust
, I have the opportunity of visiting Sybil Kathigasu's house in the company of Mr Law, who took us around and provided fascinating glimpses of the life of Sybil Kathigasu.
Visitors to Papan will find it to be a small town vegetating in semi-slumber. Right at the heart of town is a Chinese primary school, Sekolah Jenis Kebangsaan (Cina) Papan. Children completing primary education here have to continue their secondary studies elsewhere, and the majority of them proceeded to bigger towns and cities where jobs are aplenty. There was once, when tin prices were at a high, plans to relocate Papan, as it is sitting on is rich in tin. It did not happen. Glorious days of tin mining are long gone. Depressed price for tin in the mid-1980's had collapsed the tin mining industry of the Kinta Valley, drawing the fortunes of small towns like Papan along with it.
Many of the shophouses in Papan are in a run-down state. Quite a number of them are at various stages of disrepair, but lack of funds has prevented any form of preservation.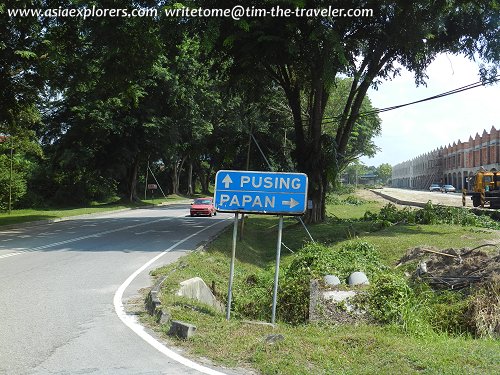 Roadsign for turning in to Papan
(18 June 2011)
Papan was in the local media for all the wrong reasons in 2010, when it was revealed that a Japanese company involved in making television tubes was using it as a radioactive dumpsite. On 13 June, 2010 (just slightly over a year from when this article is written), the people of Papan (along with that of neighbouring Bukit Merah and Menglembu) held a demonstration and sent petition to the government to stop the dumping.
Visiting Papan
Papan is about half an hour south of Ipoh by car. Let me describe the direction from the Ipoh Railway Station. Head south on Jalan Panglima Bukit Gantang Wahab until the roundabout, then do a 9 o'clock turn to Jalan Leong Boon Swee. At the next intersection, turn right and continue on Jalan Lahat, also called Federal Route 5.
Continue on Federal Route 5 heading south until you reach the junction to Papan on your right. You will see a signage there pointing to Papan on your right, and
Pusing
straightahead. Take the road to Papan, also called State Route A188, and you will arrive in the town in 5 minutes.
Sights in Papan
Masjid Kampung Papan
Rumah Besar Raja Bilah
Rumah Asal


House of Sybil Kathigasu
Going somewhere? Find your hotel room on Agoda!
Whether you are making a pleasure trip or a business trip, book your hotel room through Agoda, and enjoy guaranteed lowest room rates. Complete the search box below to look for the room that is just right for you!
Exploring Malaysia with GPS
The GPS is the most wonderful instrument for exploring Malaysia. On places described on this website will include GPS coordinates. You simply need to key the coordinates into your GPS device, and it will navigate you to the intended destination. GPS can be purchased from shops in most shopping malls in Malaysia, and alternatively, you can also shop for them via Amazon online. Here are some models which I found on Amazon.
Here are some
GPS devices
available via Amazon.
Buy Your Long-Distance Bus Tickets Here!
If you are planning to travel Malaysia and Singapore by bus, you can now purchase your long-distance bus tickets directly from
Bus Online Ticket
, where you get to check the schedule as well as price of tickets from various bus companies.
Suggesting a sight for inclusion
My goal is to describe every sight in Malaysia that is worth visiting, and helping people find their way there. There are many sights that I don't even know of, and some that I have overlooked. If there's an interesting sight that is worth letting people know about, please use this form to let me know. I will find out about it, and create a page, with map and GPS coordinates, so that in future, other people can easily find it too. The more information you can provide me about the sight, the better, and you're helping other travel enthusiasts discover and enjoy visiting it.
CLICK HERE TO OPEN SUGGESTION FORM
About me
Hello and welcome to my website, Exploring Malaysia, yay!

My name is Timothy Tye. I write this website, and continue to update it regularly, to share with you everything that I know about Malaysia. It is one of my several travel websites, which include Penang Travel Tips and Big World Out There. To know more about me, visit my website, www.timothytye.com.

Help me keep my pages updated. If you found errors, please do kindly let me know. For all correspondences, click here to contact me. Thank you for visiting, and have a great day!
Check out my latest updates
Copyright © 2003-2015
Timothy Tye
. All Rights Reserved.